Scope of intervention
We provide our expertise to Private Companies, Professional Organizations, Institutions, and all operators of the seafood industry, from primary production (fishing, aquaculture and related supply) to consumers' plate. We investigate seafood global resources on the one hand, and French and European markets on the other.
We intervene specifically on: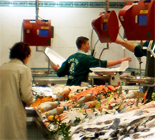 Identifying market opportunities,
Assessing Companies or Organizations,
Developing competitive strategies and corresponding action plans.
Thereby, we help all kinds of seafood operators in their attempt to create value.